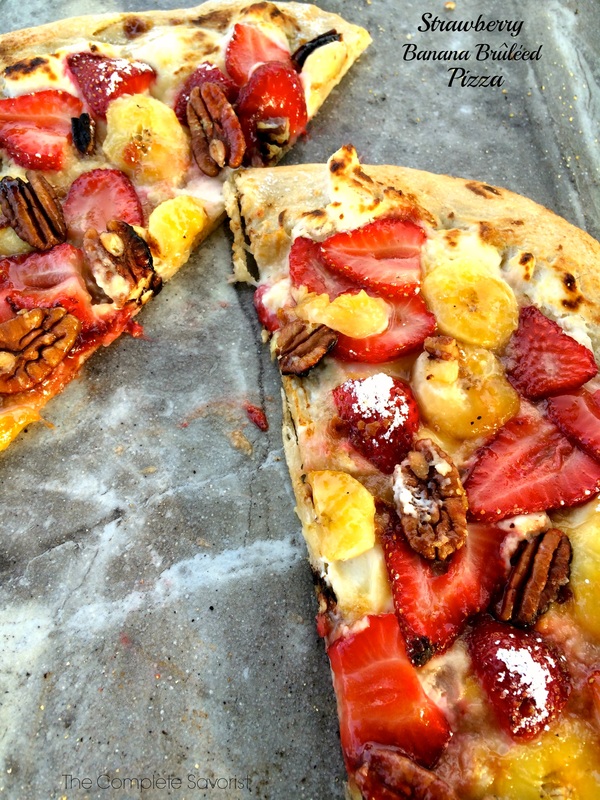 Part 4:  Ladies and Gentlemen, a dessert! This is my first dessert post.  I knew it would have to happen eventually.  On top of this being my first dessert post, this was a pizza that wasn't on the list of pizzas to make.  It was just a happy accident, one might even say serendipitous!
Dave and I had plenty of cream cheese and a few strawberries left.  When he came out of the house with one very ripe banana and an idea was born.  I sent him back inside to get some pecans and brown sugar.
We both agreed this was one of our favorite pizzas of the evening.  We used whole pecans but agreed that whole pecans were too large per bite and that pecan pieces would be best.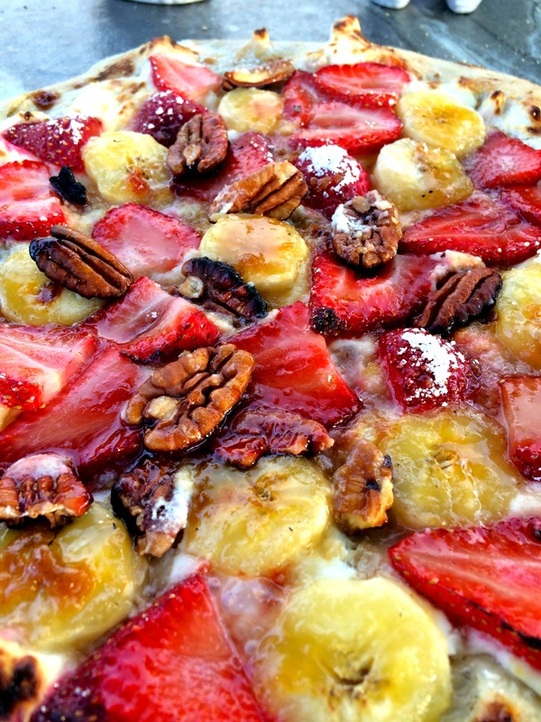 Strawberry-Banana Brûléed Pizza

Ingredients

Cream cheese; softened
2-3 strawberries; sliced
1 ripe banana; sliced
2 tbsp brown sugar +/-
2 tbsp powdered sugar +/-
Pecan pieces

Instructions

Roll out the dough ball to the desired thinness.
Using a pastry brush, brush the edges or crust of the dough with olive oil.
Spread the cream cheese on the dough, meeting the olive oiled crust line.
Layer the strawberries over the cream cheese, then the bananas in the open spots.
Sprinkle the pecan pieces over the fruit, then the brown sugar.
Make sure the bananas are coated in the brown sugar, as it will crystalize on them during the baking process.
Dust the powered sugar over the entire pizza.

Outdoor Pizza Oven

Place the pizza in the oven, towards the back, it will cook in about 2 minutes, but watch it, and half way through cooking, move it closer to the front of the oven.
Remove it from the oven, allow it to sit for a minute then slice and serve.

Indoor Oven with Pizza Stone

Or if using a pizza stone indoors: preheat the oven to 400° and allow the stone to preheat for at least 10 minutes.
Assemble the pizza and slide it onto the stone in the oven.
Bake for 10-15 minutes or until it has reached the desired doneness.

7.5

20

https://thecompletesavorist.com/strawberry-banana-bruleed-pizza